I love sewing with leftover fabric! Though I usually find it a bit annoying when scraps are too big to be thrown away after cutting, I love the challenge of it. There's almost always a pair of shorts or a mini skirt in there, but sometimes you have to get a bit creative to make it.
I love that projects from leftovers are basically "free" since you don't have to buy extra fabric. They're also quick and easy to sew, yet really good quality. The cut of this skirt for example reminds of those basic knit skirts with an elastic waistband which you can buy at H&M for a few euros. Yet by using high-quality-fabric and adding a few details and finishing touches, my handmade skirt looks and feels so much nicer and more professional than any cheap ready-to-wear garment ever will.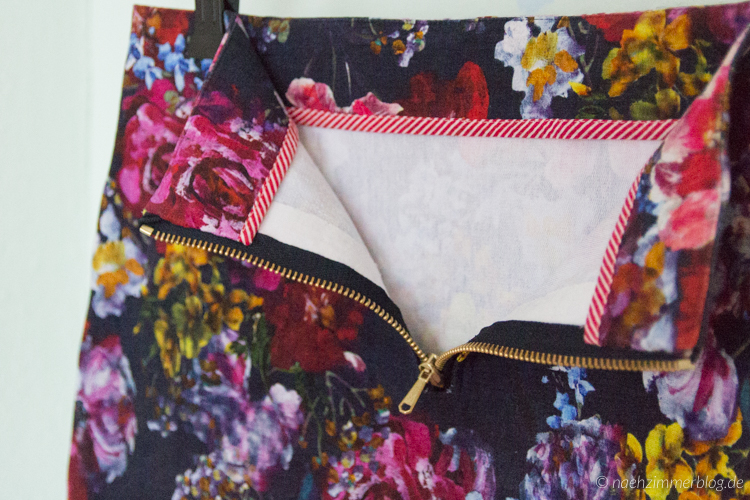 Fabric and Pattern
For this project, I used scraps from my floral Françoise dress and a self-drafted mini skirt pattern (basically the same as for my Kokka Mini Skirt. It's a very simple pattern with a facing on the inside instead of a regular waistband.
The fabric is a knit, but not a super elastic one, so I didn't bother eliminating the back darts. Adding the beautiful golden exposed zipper also worked out fine – I just used some interfacing so the straight stitches around it would hold up over time.
Some Notes on Construction
In terms of thickness the fabric lies somewhere between an interlock and the typical sweatshirt knit, so a clapper came in handy when ironing the facing. It makes such a difference and really helps it lie snug and flat. I also made sure to understitch the facing and sew it down at the side seams and darts so it wouldn't pop out.
All in all, this project took about three hours. I am usually all about the complicated, challenging projects, but sometimes it's nice to sew some quick and easy basics for a change. My wardrobe was missing some colourful patterned skirts, so this was a good addition and I've been wearing this skirt like crazy within the past year.
Do you ever make "free" projects from your scraps?
Further Links