Okay, so I obviously caught the knitting bug. Shortly after my first hat was finished, I ran to the yarn shop 15 minutes before closing time to pick up wool for the next project. How cool is it that there's a yarn shop right across my street? It's next to a small fabric store … Although, on second thought, I am not so sure whether that's a good or bad thing …
There's really not much to say about this project. I love the colour. It matches my lovely Gudrun Sjödén scarf. It is warm and comfortable and made of super soft merino wool that I still can't believe was just 4,95 € per skein. That's one of the reasons why I want to keep knitting: You get high quality stuff for an affordable price.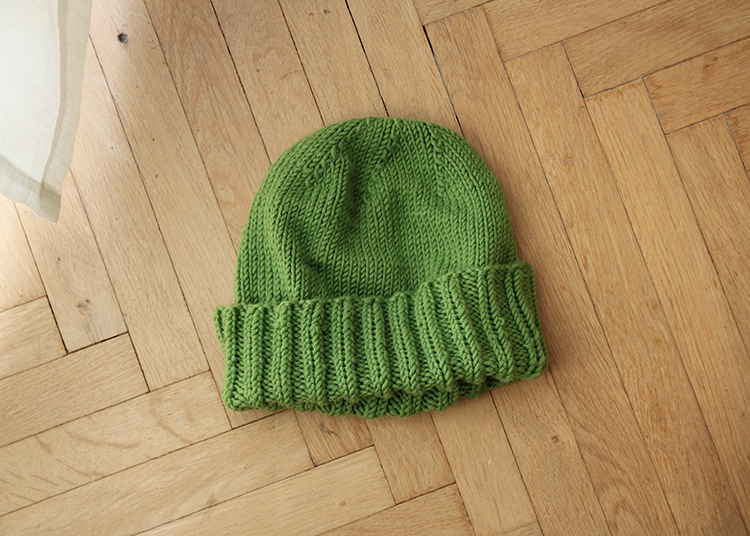 While I am writing this, I am in the middle of knitting project number three and also got my first "custom order" (my partner became jealous after seeing all those beautiful hats).
Further Inspiration
Right now, I just want to practice on small basic projects until I feel confident enough to make something bigger. A handmade cardigan would be a dream come true. It is so hard to find nice ones that are both warm and good quality. I also have my eye on this sweater pattern which seems kinda expensive, but also like a great beginner's project. This one looks nice, too, but I'm not sure if it is suitable for a beginner.
Project Details
Pattern
from my knitting class
Yarn
Lana Grossa Bingo, 50g/80m, 100% merino wool
Needles
50 cm circular needles in size 5 (UK 6, US 8)
Grams used
ca. 93g / almost 2 skeins
Alterations
– decreased the stockinette stitch part by a few rows in order to not run out of yarn.
– should probably decrease the number of cast-on stitches next time