When it comes to trends, I am super slow. I still cringe when I see mum jeans and I'm not sure if there'll ever be a time (famous last words …) when I start liking those uber-high-waisted cropped pants with the half-open zipper fly.
Sometimes I feel a bit betrayed by fashion trends – in my teens, I have always hated fashion, then in my early twenties, I slowly learned to love it only to now have come full circle. I just don't understand what is happening in fashion right now and it makes me feel very old and also a bit alone, since there's very few people whose style inspires me anymore.
Anyway, the good thing about sewing is that you don't need to buy cropped pants and oversized beige dresses with horn buttons if you don't absolutely want to, and I, absolutely, DO NOT WANT TO. One trend that I am slowly coming to love, though, is crop tops. It might equally be the hot summer days we had recently and the amazing versions Liz is making on instagram (one of the aforementioned few people that still inspire me).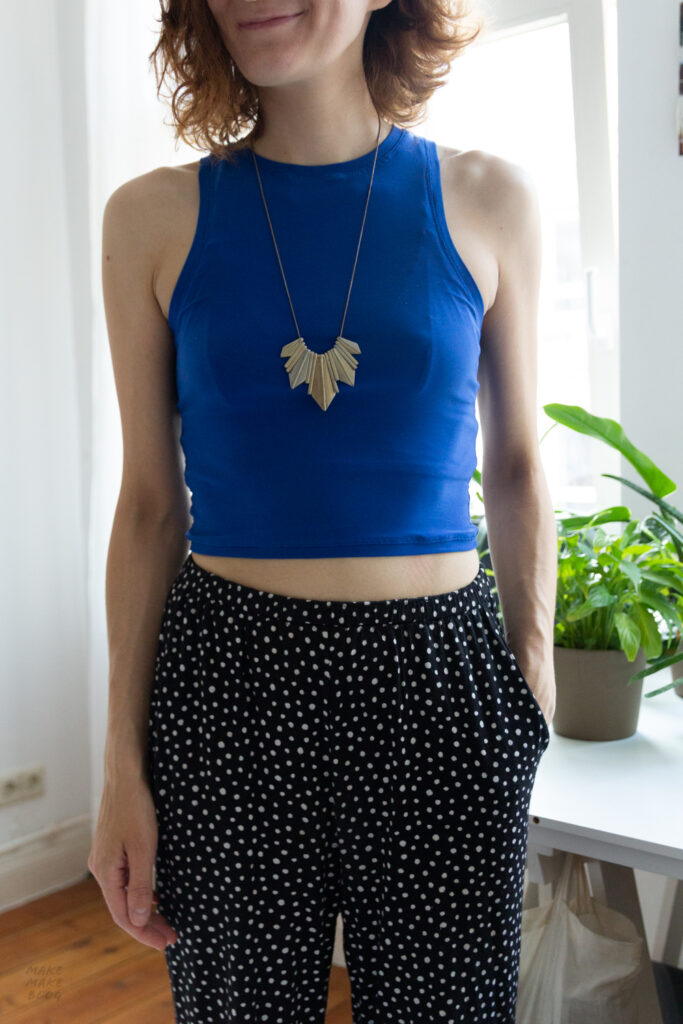 But when I made this wearable test run of the Axis Tank by Sophie Hines recently, I immediately wanted to make ten more! The fabric is a poly blend from my stash that was originally intended for bras. I usually avoid poly, but this one's lightweight and might do well as a summer top nonetheless.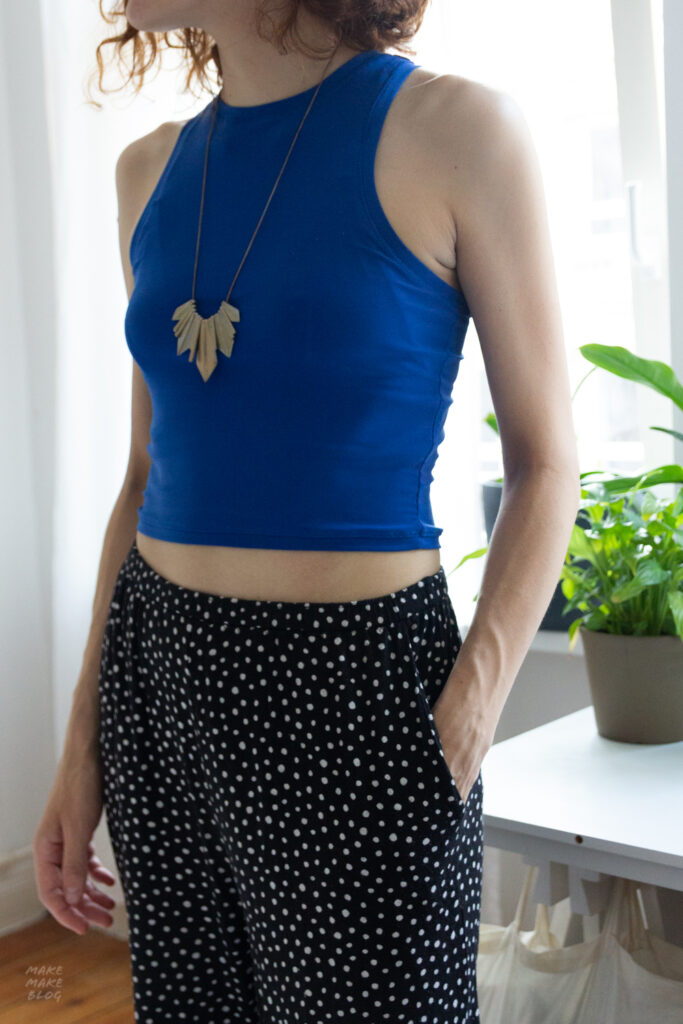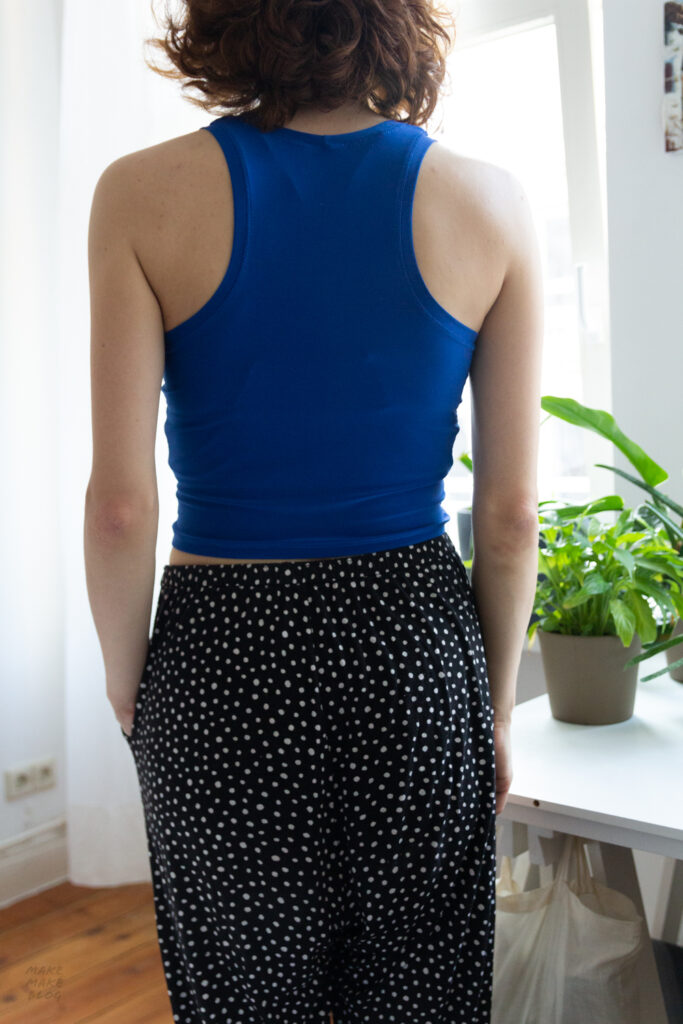 I altered the pattern slightly to fit the picture I had in my mind. First, I added about 1cm around the front armholes, 5cm to the length (long torso adjustment) and 2cm in width on the waist since I was between sizes. The last step proved to be unnecessary though (too loose), so I will revert that in my next version.
In addition, I redrafted the top to have two side seams instead of just one center back seam. I was going with the original version initially, but then I cut out the pattern the wrong way (which would have resulted in a center front seam). Luckily, I had just enough fabric to cut out a new front with side seams. And now I like this version so much better. I've made tops with back seams before and it they have felt itchy and annoying.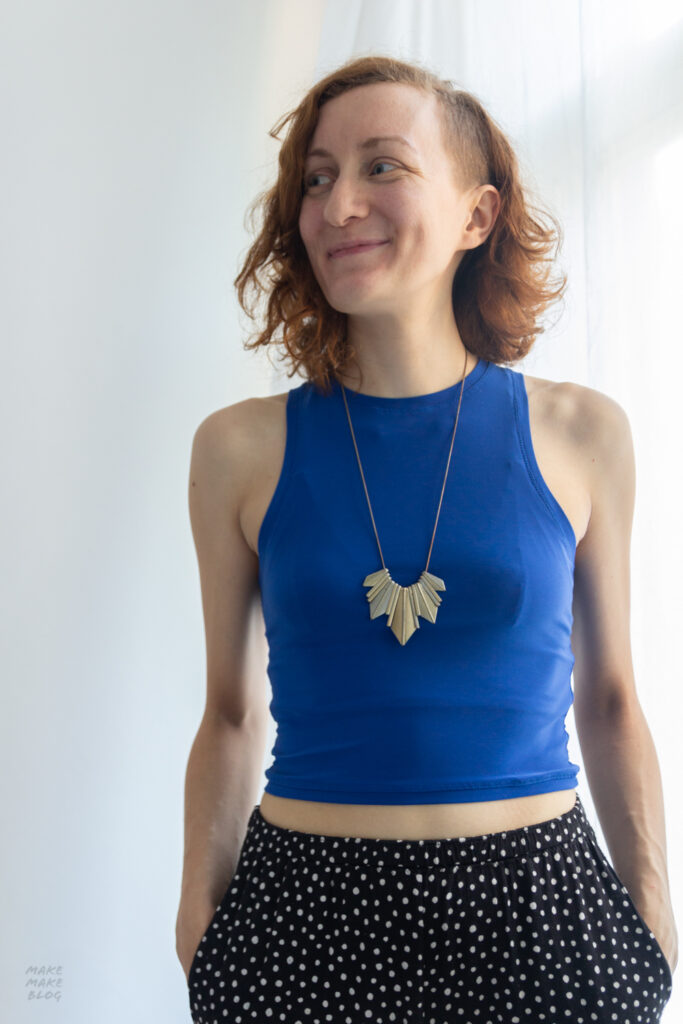 I just love how this top turned out! So far, I've worn it with these wide-legged pants (who used to be a jumpsuit), but I'm already dreaming up some beautiful high-waisted midi skirts to pair it with …
Stay tuned for more crop top content in the future :)
Project Details
Pattern:
Axis Tank by Sophie Hines,
slightly altered
Size:
S
Fabric:
blue poly knit from my stash
Alterations:

added about 5cm to the length (long torso)
added about 1cm around the front armholes
added 2 cm to the width at the waist
redrafted pattern for side seams instead of one center back seam